8 Bedrooms, 8.5 Bathrooms, Sleeps 40
6 kings, 3 sets queen bunks
Check Rental Availability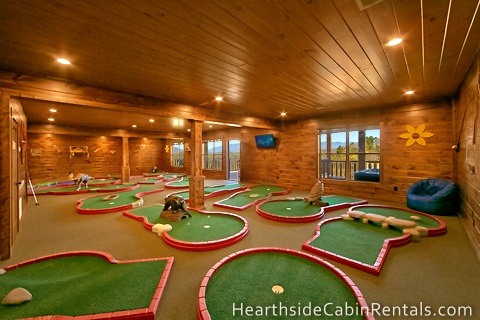 Click Here to view more photos
Cabin Amenities
Style: Log Cabin
Hot Tub
Pool Table
Grill (Charcoal)
Pet-Friendly
Grill (Gas)
Non-Smoking
Cable TV
Rocking Chairs
Decorated for Christmas Holidays
DVD
Futon
Swimming Access-In Season
Washer & Dryer
Big Screen TV
Home Theater System
More than one TV
Fireplace: Electric
View: Mountain
Picnic Table
Location: Near Dollywood
Air Hockey or Foosball
Internet Access
Cabin Rental Description
Up to 40 guests can experience the majestic Smoky Mountains in one of HearthSide Cabin Rentals' luxurious Pigeon Forge cabins, 8 bedroom Mountain Top Retreat. Offering 5,800 square feet of living area, guests will have plenty of space to be comfortable and relax while being tucked into the beauty of the Smoky Mountains.

Featuring 8 large bedrooms and 8 ½ bathrooms, Mountain Top Retreat is perfect for weddings, family reunions, church groups and corporate events. From the moment they walk in, guests will fall in love with the dark-stained pine walls and the added touched of mountain charm throughout the cabin. For the ultimate relaxation, the cabin provides plenty of deck space and rocking chairs on each level. This way, everyone can sit and talk while enjoying the gorgeous backdrop of the Smokies.

For entertainment lovers, spending time in this Pigeon Forge cabin will be the highlight of any vacation! The lowest level of the cabin features a complete 18-hole themed putt putt golf course, while the second level showcases a 14-seat movie theater room as well as a game area. There's so much excitement in the cabin, you won't have to spend time waiting in lines at any putt putt course or movie theater during your stay!

Trying to save a little money while you're on vacation? You can save by making home-cooked meals in Mountain Top Retreat's fully-equipped kitchen. The kitchen is prepared for large groups, offering 2 stoves, 2 dishwashers, large refrigerator and freezer, an ice maker and pantry.

*Sleeper sofas and futons recommended for children only

The cabin is located in Pigeon Forge, only a few minutes from Gatlinburg and the Great Smoky Mountains National Park.

Main Level:

The main level features 2 bedrooms, each with a king bed, futon and private bathroom. On this level, guests will also find the kitchen and dining areas, as well as the main living space. From the main level, families can step onto the deck for an unparalleled view of the Great Smoky Mountains. There is also a half bath on this level.

Top Level:

If you're looking for entertainment, you'll be spending a lot of time on the top level! Mountain Top Retreat showcases a movie theater room and game area where families can spend quality time together. Also on this floor, guests will find a total of 6 bedrooms and 6 bathrooms. Four of the bedrooms have a King size bed, a futon and a private bathroom. One bedroom has 2 sets of queen bunk beds, a futon and private bathroom. The last bedroom has one set of queen bunk beds and a futon. The bathroom for this room is right by the theater room. A second entrance to the cabin is also located on this level for added convenience to guests.

Lower Level:

Have you ever wanted to play putt putt in the comfort of your own home? At Mountain Top Retreat, you can! Guests who stay in the Pigeon Forge cabin will find a complete 18-hole putt putt golf course on the lower level. Themed after many of the playful animals that call the Smoky Mountains home, this course is great for kids and adults to spend an afternoon together. Don't forget to save your scorecard as a souvenir from your family's latest trip to the Smoky Mountains!

Resort Pool: Opened June 2014, guests to Mountain Top Retreat will enjoy access to a resort-style outdoor pool. Offering ample parking, seating, the pool is perfect for families and guests looking for a unique way to cool off during the warmer months.




At HearthSide Cabin Rentals, we want families to experience the comfort of being in a home away from home. Central heat and air is provided in the cabin, so you can relax every month of the year. Call us now or book this beautiful cabin online today!

***Pet friendly up to 2 small dogs that weigh up to 35 pounds.
Cabin Availability & Online Booking
June - 2019
S
M
T
W
T
F
S
1

2

3

4

5

6

7

8

9

10

11

12

13

14

15

16

17

18

19

20

21

22

23

24

25

26

27

28

29

30

July - 2019
S
M
T
W
T
F
S
1

2

3

4

5

6

7

8

9

10

11

12

13

14

15

16

17

18

19

20

21

22

23

24

25

26

27

28

29

30

31

Reviews
Joyce Mansfield
- 09/11/2015
We had a wonderful time and we loved the cabin!! Yes, I would recommend Hearthside to a friend or family member!
Carol Isaacs , Ann MyersorMicheal Isaacs
- 08/06/2015
My children and grandchildren--23 of us--were very comfortable in the 8 bedroom cabin. They enjoyed the pool, golf in the basement, hot tub, pool table, etc when there was downtime. We were very busy with the many activities in Pigeon Forge. Yes, I would recommend Hearthside to a friend or family member!
Pat & Jan O'Neill
- 06/30/2015
You done good! Check-in was easy. Found the cabin in excellent shape. When I called about a missing iron, one was delivered the same day. Yes, I would recommend Hearthside to a friend or family member!
Tonda Wheeless
- 06/12/2015
It was beyond our expectations. It was amazing to have the whole family all together and to not feel crowded at all. Your staff was quick to attend to all our questions and needs. Great experience. Yes, I would recommend Hearthside to a friend or family member!
Union Grove Ch Church
- 04/27/2015
Very pleased ! Yes, I would recommend Hearthside to a friend or family member!
james allen
- 02/23/2015
Absolutely above and beyond all expectations! Outstanding, true American, top notch company/people to deal with! Even when the weather wasn't cooperating making it difficult to get up and down from the cabin the maintenance crew was right on it. We cannot thank you enough for an outstanding well done job. If everyone had the positive morals, beliefs, and true costumer satisfaction that this company and the employees have shown us this past week it would make things so much more enjoyable. I would and already have highly recommended this company to friends and family. Thank you again for everything, The Allen Family South Bend IN. Yes, I would recommend Hearthside to a friend or family member!
Deidra Frederick
- 10/20/2014
Everythng was great....We had to call the office due to the ice maker not working and they sent someone with two bags of ice and the maintaince guy to fix that machine. Yes, I would recommend Hearthside to a friend or family member!
Lighthouse Pentecostal Church
- 09/22/2014
Beautiful home, comfortable beds throughout, kitchen thoroughly stocked. Great experience! Yes, I would recommend Hearthside to a friend or family member!
Chestnut Mound United Methodist Church
- 09/15/2014
Our church group stayed at Mountain Top Retreat and the cabin was great. Everything you needed was right there. The cabin was beautiful, plenty of room for the whole group and the amenities were loved by everybody. The staff at the office was the best we have ever worked with. Thanks again for a wonderful weekend. Yes, I would recommend Hearthside to a friend or family member!
Sue
- 06/02/2014
Where do I begin to describe our stay at the beautiful, brand-new cabin? The pictures and details on HearthSide's website page were exactly what we got. Our kids never wanted to leave this awesome place. The putt-putt was an amazing touch, the kitchen had all we needed and more, the lodge decor was inspiring and the views were beyond belief -- from almost every window! Our group will definitely be back to stay in "Mountain Top Retreat" before long! Thanks also to Denise and Sheila for helping us to pull this fun trip together.
Reservation Guarantee
The reservation guarantee is 7% of your total reservation and enables you to receive a full refund, less the cost of the guarantee, up to 15 days prior to your arrival for a 1 to 5 bedroom cabin, and up to 60 days prior to arrival for 6 bedrooms and larger. Once inside those time periods the reservation guarantee would allow you to reschedule your stay. Though the deposit guarantee is an optional charge, Hearthside has a no refund/no reschedule policy without it.
*Rescheduled stays will have 6 months to come and must stay in the original cabin booked.