5 Steps for Planning a Movie Night in a Large Pigeon Forge Cabin With a Theater Room
January 10, 2023
One of the most popular amenities we offer at Large Cabin Rentals is our home theater rooms. Equipped with large screens, genuine cinema-style seating, movie posters, and more, our theater rooms are the perfect place to kick back and unwind after a day out on the town. Are you ready to plan the perfect evening in one of our theater rooms? We can help. We have put together 5 easy steps for planning the ultimate movie night in your large Pigeon Forge cabin with a theater room.
1. Choose a Movie the Entire Group will Enjoy
Of course, the first step to planning your movie night is determining what to watch on the big screen! You might want to choose a different theme for each night of your trip. For example, on one evening you might have a comedy marathon to keep the laughs rolling. On another night, you can turn the lights down low to create a creepy atmosphere for a night of horror, or keep everyone on the edge of their seats during an action flick. If you have a family with young kids, select something with broad appeal that would be appropriate for everyone, such as a Pixar movie.
When packing for your trip to the Smokies, don't forget to bring some of your favorite movies from home to share with the group. Stock up on some new releases before heading to the cabin, or dust off some old classics. As an alternative, you can rent movies locally in the Pigeon Forge area by picking up a recent release from a Redbox kiosk. These are automated vending machines that dispense DVDs for rent. Simply enter your credit card information at the kiosk, and return the DVD the next day. There are several Redbox kiosks in Pigeon Forge, including at the Walgreens at 3071 Parkway, Food City at 3625 Parkway, and Kroger at 220 Wears Valley Road.
No movie night is complete without snacks, so be sure to have plenty of goodies on hand for everyone to enjoy. Enjoy the traditional snack of freshly popped popcorn, or put out some bowls of munchies, such as nuts and chips. You could even offer some healthy options for the evening by putting out a selection of fruit or a vegetable tray. Find out in advance what everyone in your group likes to eat while watching a movie, and prepare a menu accordingly. Each of our Pigeon Forge cabins with theater rooms comes with a full kitchen, so you'll have no problem making whatever snack you want!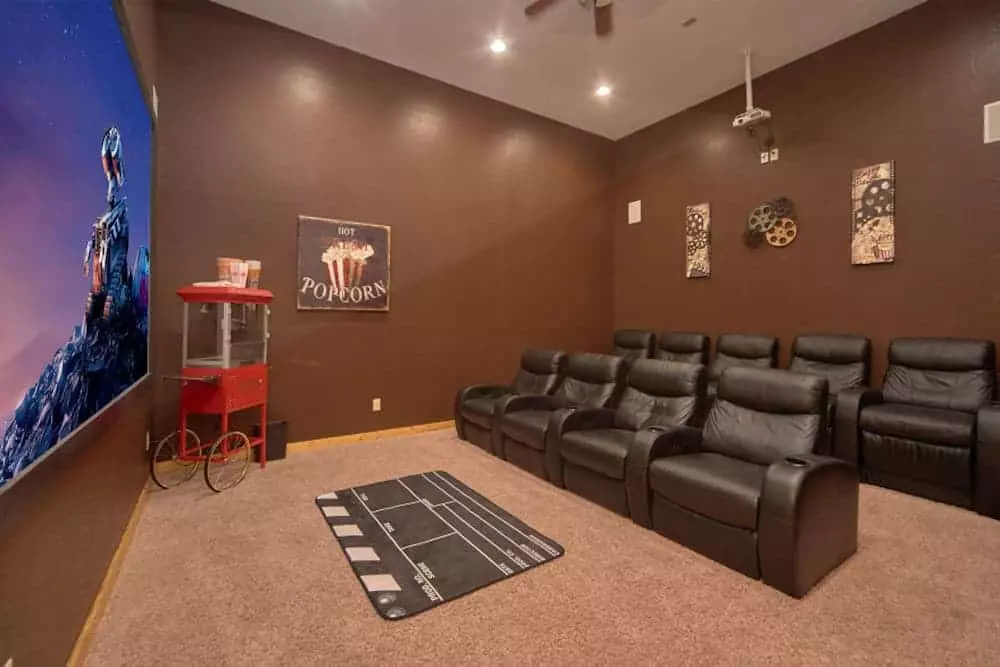 Many of the movie rooms in our cabins feature actual theater-style seating with armchairs in rows! Although these seats are perfectly comfortable, you might want to bring some pillows and blankets to create the ultimate cozy environment. Imagine a fire in the fireplace, a movie on the big screen, snacks and a blanket… delightful!
5. Relax and Enjoy the Show
Once everything has been prepared and the night's movie has been selected, you simply need to turn on the movie and relax! After a fun day of activities in the Great Smoky Mountains, everyone in the group will look forward to returning to their large Pigeon Forge cabin with a theater room for an amazing movie night.
Browse Our Pigeon Forge Cabins With Theater Rooms
Are you ready to have the ultimate move night in your cabin rental? It's time to pick a cabin! Take a look at our selection of large Pigeon Forge cabins with theater rooms, then choose the one that's right for your movie night in the Smokies.