The 5 Best Gatlinburg Cabins with Mountain Views
September 02, 2023
When you take a trip to the Great Smoky Mountains, you may find yourself searching for the best Gatlinburg cabins with views. You'll want to find a cabin that suits the needs of you and your guests, while allowing you to admire the landscape of the area! To help you out, we've made a list of some cabins with the gorgeous views. Here are the 5 best Gatlinburg cabins with mountain views:
1. Highlands View Lodge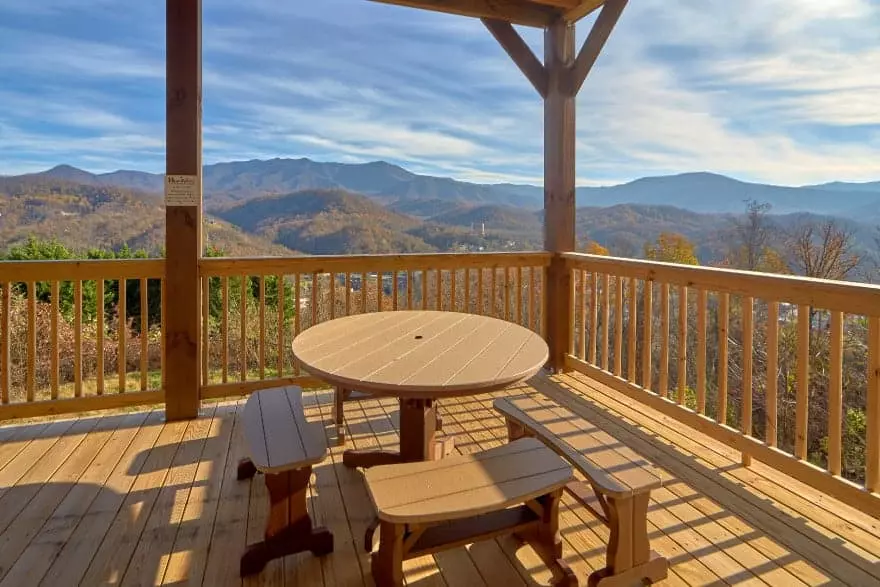 Overlooking downtown Gatlinburg, Highlands View Lodge is one of the best mountain view cabins in Gatlinburg because it offers a unique view of the Smoky Mountains. The main floor of this huge cabin has a spacious living room and dining area that opens onto a large private deck overlooking the mountains. The lower floor of this cabin is considered the "entertainment level" because of the theater room, kitchenette, and another private deck! This private deck has tons of outdoor seating with picnic tables, as well as a hot tub so you can sit back and relax at this Gatlinburg cabin with mountain views!
2. Majestic Sunrise
Majestic Sunrise offers some of the best views you can find in the Smokies! The views from this cabin face East, so you can sit on your balcony and watch the sunrise over the beautiful Smoky Mountains. Majestic Sunrise has plenty of outdoor seating space with wooden rocking chairs and a hot tub. This cabin can sleep up to 14 guests comfortably and features a pool table, a theater room, floor-to-ceiling windows, and more.
3. Grand View Lodge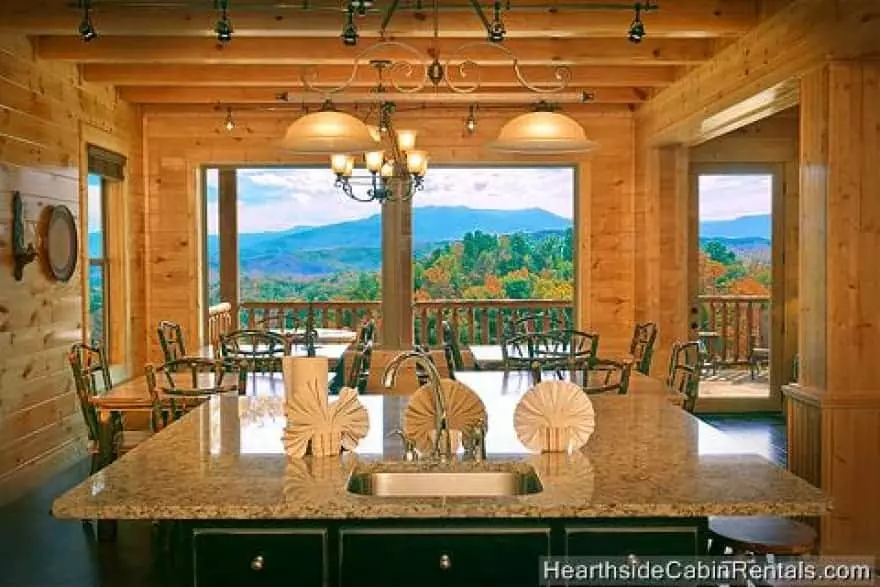 If you're traveling with a bigger group, but still want those great Smoky Mountain views, Grand View Lodge is the place for you. It has 12 bedrooms and 12 bathrooms and can sleep up to 56 guests comfortably. This cabin offers dramatic views, allowing you to see Mount LeConte during the day, or gaze at the stars at night. Grand View Lodge also has not one, but two bubbling hot tubs so you can enjoy the outdoors from the comfort of your own cabin!
4. Mountain Breeze Manor
Mountain Breeze Manor is perfect for large groups and boasts some of the best outdoor amenities in the Smokies. This cabin has huge private decks with tons of wooden rocking chairs, a hot tub, and a charcoal grill. One of the decks also features a large picnic table overlooking the Smoky Mountains. The spacious kitchen in this cabin has three refrigerators, two stoves, and two dishwashers. The cabin also has a pool table, foosball table, arcade games, 13 TVs, and even more amenities to make it the perfect Gatlinburg cabin with mountain views for family reunions, church retreats, or just large groups of friends!
5. Summit Vista Lodge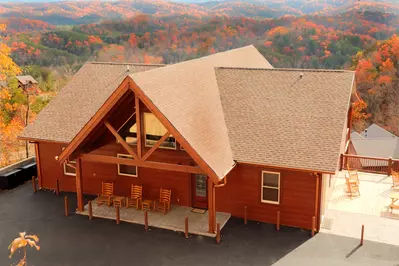 You'll notice the amazing views of Summit Vista Lodge as soon as you arrive. One of the first things you'll see is the one-of-a-kind veranda with stunning views, seating, tables, and an outdoor fireplace. Inside, you'll find oversized windows that provide guests with panoramic Smoky Mountain views everywhere they turn. This beautiful cabin is designed so guests can see the vast Great Smoky Mountains without ever leaving your cabin! In addition to the mountain view, this cabin offers plenty of entertaining amenities as well. Enjoy a pool table, video arcade games, a theater room, and an incredible indoor swimming pool! You'll have it all at this 10 bedroom mountain view cabin in Gatlinburg!
Browse More of the Best Gatlinburg Cabins With Views
When you stay in one of the best mountain view cabins in Gatlinburg, you and your guests will get to make the most of your time in the Smoky Mountains. Check out more Gatlinburg cabins with mountain views and plan your trip today!