6 Ways Staying in a Large Group Cabin Rental in Pigeon Forge Saves You Money
August 05, 2022
Vacationing as a group is a great way to make your Smoky Mountain getaway even more affordable! There are plenty of other ways to save on your vacation, and we want to share some of them with you! Here are 6 ways that staying in a large group cabin rental in Pigeon Forge will save you money:
1. Share the Costs of Your Cabin With a Group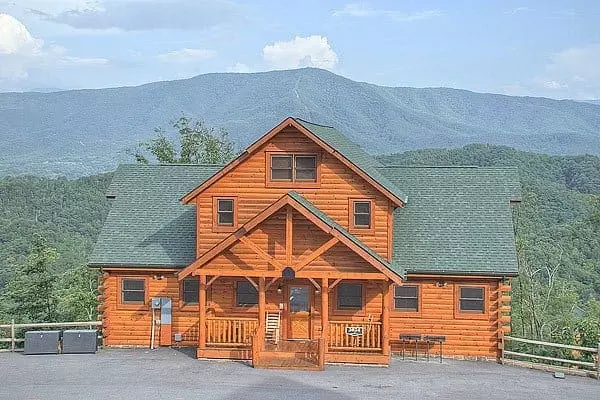 When you take a vacation with a big group of friends or family members, each person only has to pay a fraction of the cabin's rental fee. The more guests you have, the less money each person has to contribute. With everything from 4 bedroom cabins to 16 bedroom cabins in Pigeon Forge, we can accommodate even the largest groups. Some of our biggest vacation rentals, The Big Moose Lodge and The Big Elk Lodge, both have room for 74 guests! Staying in a large cabin rental is perfect for multi-family vacations, family reunions, birthday parties, and any other get together you can think of.
2. Carpool to the Cabin
Next to actually paying for accommodations, transportation is often the biggest expense for a vacation. That's why it is smart to share travel costs as much as possible. You're going to be sharing the cabin rental in Pigeon Forge with a group, so why not arrange it so you travel as a group too? If someone has a large vehicle, you could all come up together. Another option would be to rent a large SUV, or even a bus, for the occasion.
3. Cook Meals in Your Cabin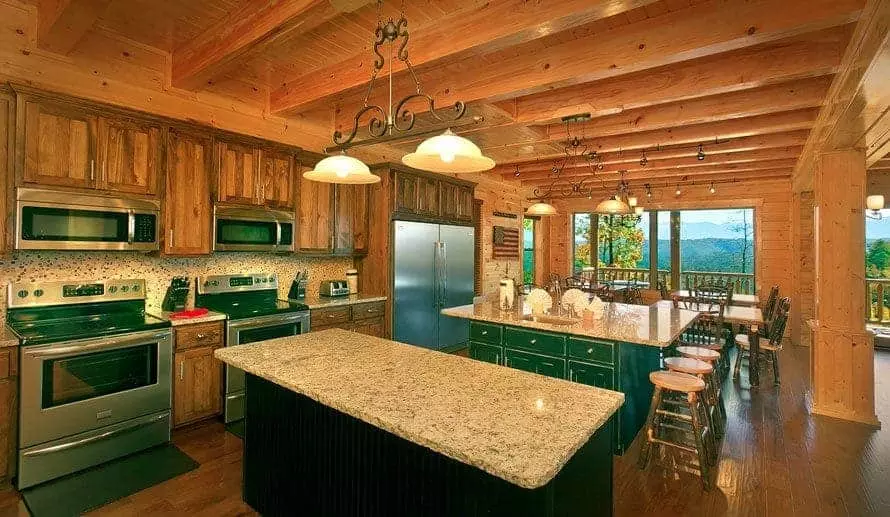 Another way to save money in your large group cabin rental in Pigeon Forge is to do your own cooking. Unlike a hotel or motel room, where you have eat all of your meals out, our cabins come equipped with complete kitchens. Our largest rental properties come with two stoves, two sinks, two dishwashers, an enormous refrigerator, and ample seating. Guests can stock up on ingredients at local stores and prepare big meals for everyone to share.
4. Enjoy the Entertainment Options in Your Cabin
Our large cabins are equipped with all kinds of amenities and fun activities, so you don't even need to spend money in town for some stellar entertainment. Large Cabin Rentals offers properties with home theater rooms, Blu Ray players, high speed wireless internet, air hockey, foosball, billiards tables, video games, and seasonal pool access. With so much to do right in your cabin, you might not want to leave!
5. Explore the National Park
Located just minutes from Pigeon Forge, the Great Smoky Mountains National Park is the most visited national park in the United States. Believe it or not, the park is completely free to visitors! With over 850 miles of hiking trails in the Smokies, you and your group can spend hours enjoying the area's natural beauty without spending a cent.
6. Take Advantage of Group Rates at Pigeon Forge Attractions
The Pigeon Forge area is full of amazing attractions, and many of them offer special group rates for large parties! Dollywood, The Titanic Museum, WonderWorks, and Lumberjack Feud are just a few of the popular businesses that give discounts to groups. Plus, when you book one of our cabins, you'll receive a pass that provides you with free tickets to local attractions!
Ready to come to the Smokies with your group? Look at our Freedom Fun Pass to see which attractions you'll get free tickets to when you stay in a cabin rental in Pigeon Forge!